HOW WAS LECTURE PHASE?
My experience was phenomenal. Every week of lecture provides a fresh topic, which speaks to different parts of your life; wiping away the old, and giving you a better foundation in your faith. My favorite week was identity week because it was a time of true surrender. We got to know who we are in Christ and do activations that threw off shackles of our old life.
HOW WAS OUTREACH PHASE?
Outreach has been a blessing because it provides the arena for your faith to be challenged! You are pushed to move past your insecurities or anxieties about doing certain actions. Also, you get to see amazing ministries working in the world, and you get to play a part. You are a servant to all the needy people in the world. One of my favorite moments was in Pasadena, California where my fellow students and I were constantly doing worship sets for an IHOP (international house of prayer). That worship was the deepest I've ever been with Jesus!
HOW WAS THE WORHSIP FOCUS?
The worship focus was strong. My classmates and I were able to see different kinds of worship: dance, lyric writing, painting, and many more. Also, for our main focus (musical worship), we were given many opportunities to lead and go deeper. We were able lead worship in different churches, countries, and even other YWAM bases. Plus, our staff are hungry to teach about what it means to worship, so we debrief and learn quite a lot.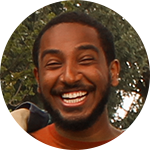 Isaias, 23, USA
City Worship DTS Graduate 2019