HOW WAS LECTURE PHASE?
I grew up in a Christian family and I already knew a lot about the Bible and Christianity but at that time I realized that I missed the basics of my belief. For example, I always knew about the Holy Spirit but I never asked myself who He is and what He can do through me. Now I know that through the Holy Spirit I can have visions, I can encourage people and I can heal people.
The YWAM Freiburg Team made a perfect environment for me to grow each day, to cry, to heal, to laugh, to learn more about God and to get to know who I am in God.
HOW WAS OUTREACH PHASE?
What is outreach about? I was so afraid of outreach because I couldn't imagine what we will do, what will happen. But I always knew I will be save in God and I want to do it either with my DTS or no one else.
Now I know I love outreach because the things you learn in lecture phase are becoming practical. There is no more imagining how it could be, you just have to do it and to try it.
I was really challenged by God when I was chosen to preach in front of 50 men at a homeless shelter. Two weeks before I was like: I will never preach on outreach. But then God said: Yes you can do it, even if you fail I still love you.
I struggled a lot but I always knew that God is taking me by my hand and carrying me through.
In the end I did it and it was way easier than sharing that with my friends before.
It's cool to see everyone of us in the group being challenged but also stepping up and saying, "Yes, through Christ I can do this even if I don't feel like doing it". And in so many times we have seen that God provides for even little things we need.
Worship was always on my heart. I already had experienced leading worship in my youth group or in church but I wanted to get to know more of the practical and the spiritual background.
HOW WAS THE WORHSIP FOCUS?
What I have learned so far is that leading worship is a lot of practical work. You have to find songs, the right keys and to practice with the band. But it's also a lot of fun, and in the end, it's always Jesus who does it and not our perfectionism or our good skills.
Worship comes from the heart and the band can't do it for the people. Everyone must worship God from their heart.
What I loved to see in lecture phase was that we can worship God not just through singing or music but also through dancing, drawing, waving a flag or just giving ourselves to Him.
Worship is not just once a week in church but it's a lifestyle.
And through all we do we can worship God because he made us to worship.
One of the best things God gave me in this time has been my new songs. I was able to write for Him and His people.
God is always singing over us, so we just have to listen to his songs and to write them down. Seriously, everyone can do it, you don't have to be a composer.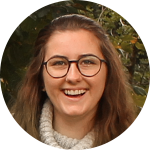 Tamara, 22, Germany
City Worship DTS Graduate 2019